Winner to be announced Nov 9!!!
Registration is now closed for this event. All participants must have their entries submitted to the final leg locations no later than 4:45pm on October 20th, 2018.
Thank you to everyone who participated this year! We will be announcing the winner no later than November 9, 2018. Watch our Facebook page for the announcement.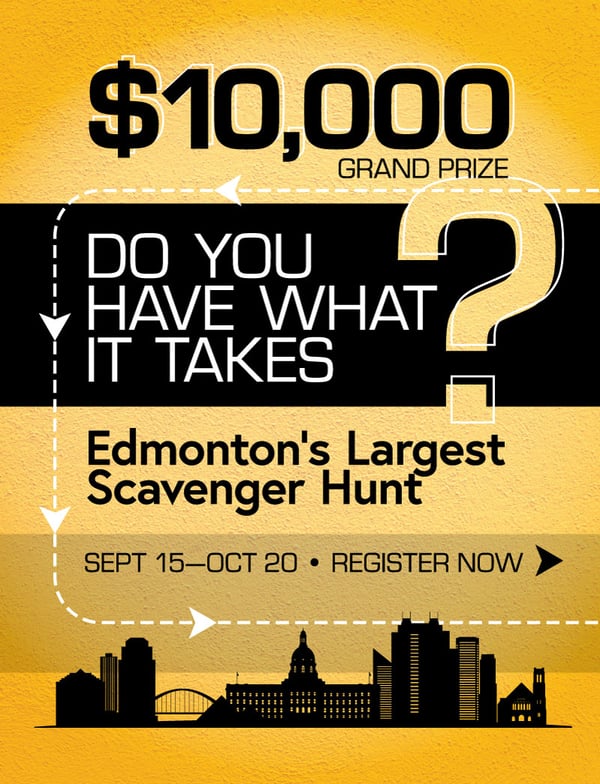 Pacesetter Homes'
4th Annual Scavenger Hunt:
Amazing Race Edition
Event Runs Sept 15 - Oct 20, 2018
Ready, set, go!
Participants will embark on a journey around the greater Edmonton area for a chance to win the $10,000 Grand Prize.
The race will be divided up into five separate legs. Each leg completed will equal one entry into the Grand Prize Draw. Complete all five legs for the greatest odds at taking home the cash!
Everyone Wins!
Complete just one of the five legs to receive a special Participation Prize. And more... visit any or all of the "bonus locations" to be entered into Weekly Prize draws.
Fun Games Along the Way
Throughout each leg you will discover puzzles and games to complete (don't worry, they're more fun than difficult) and these activities will lead you to your next part of the leg all the way to completion.
Best in Groups!
Take your friends, take your family, this year's event will be more fun in groups! It's not necessary, you can still complete on your own, but we love seeing you having fun together.
To Begin:
Register for the event using the form on the top right of this page. Each participant must register themselves.

After September 14th, pick up your Starter Kit at any of the starting locations of each leg, noted below. Each Starter Kit contains the details on how to play the game, and the details of the bonus locations for Weekly Draws.

North Leg: 175 Rapperswill Drive NW
Southeast Leg: 2808 16 Street NW
Southwest Leg: 6710 Elston Lane NW
West Leg: 224 Hawks Ridge Blvd NW
Stony Plain/Spruce Grove Leg: 1300 South Creek Link, Stony Plain
Good luck and have fun!
Questions? Send us an email here.